SEANA Campout at Snobs Creek, Thornton March 2005
The 2005 Spring campout was held at Snobs Creek, Thornton, from Sat 12 March to Mon 14 March and hosted by the Upper Goulburn Field Naturalists Club.
Field naturalists from various parts of Victoria and representing 17 clubs assembled at Eildon Mountain Lodge. The Upper Goulburn Field Naturalists Club President, Joan Semmens (Edwards) gave a big welcome and spoke of the club's history and activities.
Club Secretary, Lorraine Pyke gave details of meals, excursions etc. Dick Southcombe (SEANA president) and John
Gregurke (SEANA secretary) spoke briefly about current issues, including an invitation to Portland FNC 60th birthday.
The guest speaker for the friday evening was Andy Miller, local Parks Vic manager. He gave spoke on the geographical and historical features of the area. More about Andy Miller's talk.
Excursion reports
Candlebarks Trust For Nature
Cathedral Range
Eildon Pondage
Gobur Fauna & Flora Reserve
Goulburn River Walk
Jerusalem Creek and fire
McKenzie Fauna & Flora Reserve
Molesworth Wildlife Reserve
Perfect Cure Track
Pykes Billabong
Rubicon Historical Area
Snobs Creek Discovery Centre
Snobs Creek Falls
Evening programs included
Snobs Creek Hatchery
Fire
Lists
Bird List
Plants mentioned in reports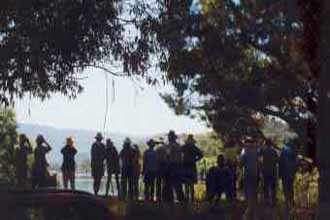 Bird watching at Eildon Pondage.
Photo: Upper Goulburn FNC.
More photographs (from UGFNC).