SEANA SPRING 2022 GET-TOGETHER AT MERRICKS
September 30, 2022
Peninsula FNC Camp, Merricks Lodge, 30/9- 2/10/2022
There is always a lot of trepidation in organising a SEANA Camp. Our two big worries were Covid, which we were lucky to escape, and inclement weather. It had been a very wet Spring, and we had visions of our excursion participants huddled under umbrellas and wondering why they were there. The weekends before and since have all been sodden, but by the most extraordinary luck our weekend was all glorious sunshine.
Our previous camp, in March 2013, was also hosted at Merricks Lodge, but the excursions were mainly to Point Nepean and the Southern Peninsula. This time we just ranged around the nearby areas, to our favourite places.
These were: for orchids and flowers – Crib Point and Stony Point; geology- Cape Schanck and Bushrangers Bay; birding- Woods Reserve on Saturday, Coolart on Sunday; botany and birds- Greens Bush and Main Ridge NCR, and general interest – Eatons Cutting, Red Hill and Seawinds, Arthurs Seat.
On Friday night our speaker was our member Roger Standen, who spoke about invertebrate life and interactions at Woods Reserve. He put up a moth sheet and light both nights at the camp in the hope that we would see moths, but it was too chilly and the moths stayed away. He also led a birding excursion to Woods Reserve on Saturday, with many interesting birds seen.
On Saturday night Leon Costermans spoke about his new Geology of Victoria book, 'Stories Beneath our Feet'. Leon is a longstanding friend of our club and the local environment. He has led the Friends of Langwarrin Flora and Fauna Reserve since they started in 1988. He is famous of course for his Native trees and Shrubs of SE Australia book, first published in 1981, and 30,000 copies sold so far, and the little green Trees of Victoria and Adjoining Areas book, which has sold an astonishing 400,000 copies. In between these he led walks for the VNPA, and published their booklets. He has been working on the geology book for 17 years, and the care shows in the finished book. It wasn't available at the camp, but is out now.
Leon's aim with the book is to make geology accessible and understandable for the average person, particularly 'environmental geology'. Geology is the most 'conceptual' of the sciences, as you have to build up a picture of how the landform came to be there. Current textbooks are too technical for the layman (Leon's has a glossary of 800 terms). Part 1 is Foundations for Understanding- the Earth and its crust, the dynamic Earth, stories in strata- a 600million year story. Part 2 is Processes and Environments- crustal forces and effects, igneous rock, 'old' rock become 'new 'rock- sedimentary rocks, how moving water shapes the land, the dynamic coast, glaciation and geological influences on present life –relationships between rocks, landforms, climate, soils, flora and fauna. Part 3 is Exploring the region- SE Australia- from Port Phillip to the coasts, Gippsland, the Newer Volcanics, the Western & Central Uplands, and the Murray Catchment. There is a lifetime of learning and interest in it.
We had 67 registrations and 62 participants at our camp. I would like to thank our members for making it happen, and making it enjoyable; Merricks Lodge for the great meals and hosting; our speakers Roger and Leon; and the SEANA participants who all contributed their knowledge and fellowship. It was a very enjoyable weekend.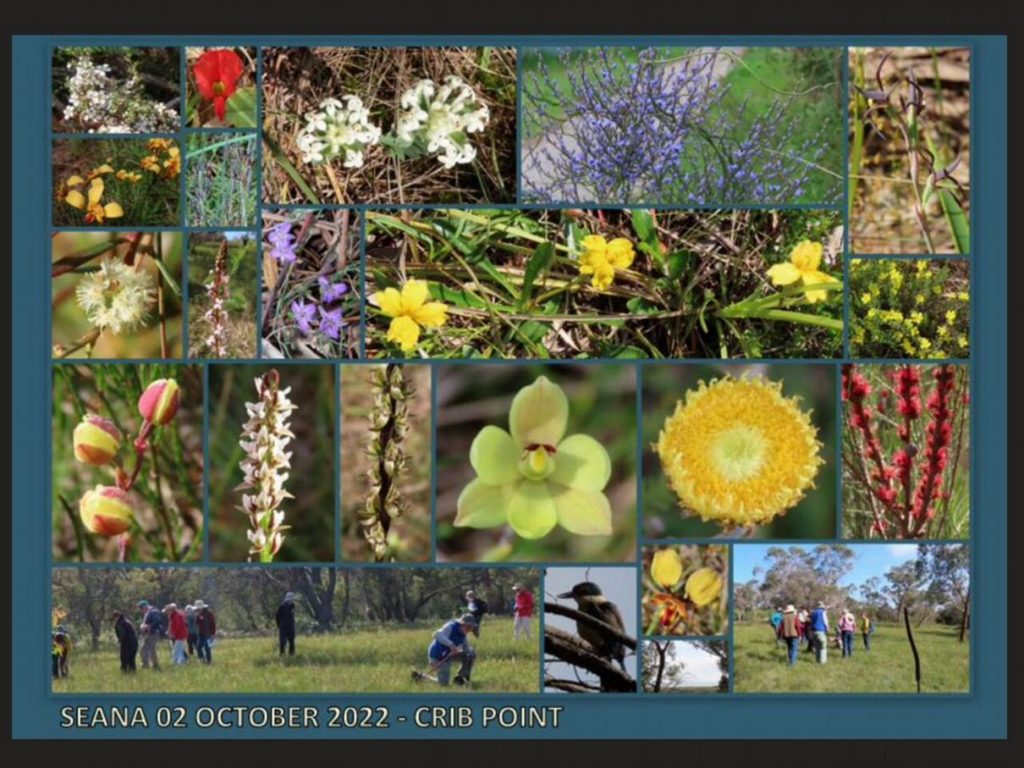 Photos by Judith Cooke
SEANA Camp – Merricks – Day 1 Saturday – Excursion to Cape Schanck (Geology) 1/10/22
On a sunny still morning we began by walking from Cape Schanck to Bushrangers Bay. The route started out along the clifftop through coastal vegetation with views back along the cliffs towards the Cape Schanck lighthouse and Pulpit Rock. Some flowering plants we saw included Coast Twinleaf (Roepera billardierei), Coast Flax-lily (Dianella brevicaulis), Coastal Grounsel (Senecio pinnatifolius var. lanceolatus), Pink Fairies (Caladenia latifolia) and Maroonhoods (Pterostylis pedunculata).
Eventually we descended down onto the beach where there were good examples of the different basalt layers that had formed over time. Unfortunately the tide was too high to do the short walk to Burrabong Creek for a close-up view of a cliff of freshwater limestone capped by Dune Calcerenite but we were able to view it, and some Red Tuff (volcaniclastic rock composed of solid volcanic ash) at the water's edge, from the cliff track above.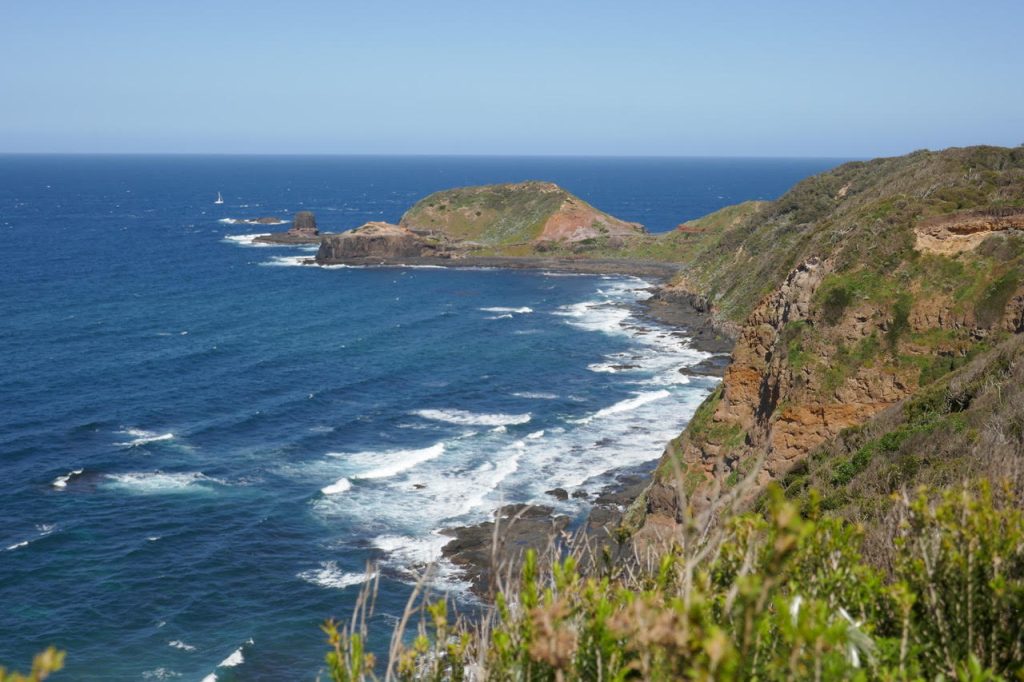 Cape Schanck was named in the 1800s after a Captain John Schank, R.N. but the name was mis-spelt. The name Bushranger Bay is derived from an event in 1853 when two convicts hijacked a schooner to escape from Van Diemans Land and demanded to be put ashore in this bay. They made their way inland, violently shooting and pillaging as they went, but within twelve months they were apprehended in Kilmore and eventually hung in the Melbourne goal.
Our next stop was for lunch at the Fingal Picnic Ground, off Cape Schanck Road, and from here we did the short 1.8 km Fingal Circuit walk. This clifftop walk took us to two lookouts to see distorted basalt columns one way and in the other direction we had clear views along the Nepean Peninsula were we could see evidence of the Selwyn Fault. Our leader described the network of faults including the Tyabb, Selwyn, and Flinders faults and another one through Dromana, that criss-cross the peninsular making it quite a vulnerable area should these faults become active in the future.
Flower plants in this area were Slender Bush-pea (Pultenaea tenuifolia), Coastal Groundsel (Senecio pinnatifolius var. lanceolatus), Running Postman (Kennedia prostrata), and Thyme Rice-flower (Pimelea serpyllifolia subsp.serpyllifolia).Birds recorded on the day were Silver Eyes, Little Wattlebirds, Grey Shrike Thrush, Grey Fantail, Perigrine Falcon, Kelp Gull, Silver Gull, and a Crescent Honeyeater.
Geraldine Harris – Castlemaine FNC