SEANA Campout at Mallacoota, October 2005
The Spring Campout of the South-east Australian Naturalists' Association was held at Mallacoota.
14-17 October, 2005. The campout was hosted by the Sale Field Naturalists Club.
Meetings and field trips excursions were held during the weekend.
At the campout
Some excursion localities
Lake Cruise
Geology of Beach Cliffs
Birding at Gypsy Point
Maxwells Road & Mallacoota Lookout
Plant Photos 1
At the campout 2
Campout report
History (talk)
Owls of the world (talk)
Plant Photos 2
Orchid Photos
Plant List
Bird List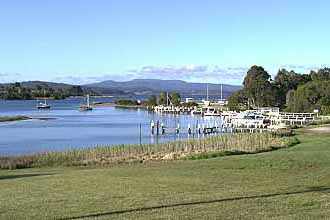 Wharf, north of the township.
Photos this page: Geraldine Harris.