Saturday Leader: David Stickney; Facilitator: John Poppins. Sunday Leader: David Mules; Facilitator: Jacqui Mules
Comments from the Sunday excursion:
A varied set of conditions were experienced. We appreciated being out of the wind along the walking track where the brush tunnels protected us. A whistler, possibly an Olive Whistler, was heard but not seen, and there was a variety of flowering plants.
Most noted were the Coastal Tea-tree Leptospermum laevigatum, Saw Banksia Banksia serrata, a few correa flowers, Common Heath Epacris impressa, Prickly Moses Acacia verticillata and an olearia.
Out towards the spit we had good views of the White-fronted Chat and made a gentle approach to the terns. Some of our group found the wind was too cold at this point and headed back to the cars, but those who pressed on got to see the Ruddy Turnstone and Pied Oystercatcher.
The walk back along the beach showed us many Bubble shells washed up as well as lots of the transparent jelly-like egg cases. And despite the lack of sun, some of the big magenta flowers of the Carpobrotus rossii were flowering.
Partial bird list for Saturday at Point Townsend:
Pallid Cuckoo
Fan-tailed Cuckoo (calling)
Black-shouldered Kite
Pacific Gull (large flock)
Silver Gull
Red-capped Plover
Great Cormorant, Pied Cormorant and Little Pied Cormorant
Pied Oystercatcher
Bar-tailed Godwit
White-fronted Chat
Little Tern and Common Tern
Nankeen Kestrel
Brown Falcon (over sea)
White-bellied Sea-eagle (imm.)
Australian Shelduck
Birds added to above list during Sunday's excursion:
Crested Tern
Ruddy Turnstone
White-faced Heron
Latrobe Valley FNC.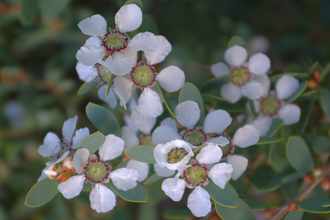 Coastal Tea-tree in flower