Murrundindi
Saturday – all day
Murrundindi Scenic Reserve is situated in the northern end to the Toolangi State Forest. The reserve is about 36 km from Healesville. The reserve encompasses 815 hectares of mixed species forest of the lower reaches of the Murrundindi River and its surrounds. The area has a variety of environments which include tumbling waterfalls, soaring Mountain Ash and damp fern-filled gullies.
There were 17 participants who decided to undertake a full day looking around the Murrindindi Scenic Reserve. Our first stop was at Myrtle Gully carpark to enable people to stretch their legs and get to know each other. This was supposed to be a quick 5 minute stop but everyone was so absorbed in their surroundings that this stop was a little longer. We enjoyed the smell of the bush and listening to birds calling, especially the Gang Gangs. Those who were game even tried nibbling the Mountain Pepper (Tasmannia lanceolata).
A short drive around the corner brought us to Tanglefoot carpark. Here we had a quick morning tea, all the time being entertained by a male Flame Robin using the cars for landing posts. This was followed by a short stroll part way along the walking track to Myrtle Gully looking at the vegetation and birds.
Our next stop was the Cascades carpark situated just inside the Murrundindi Scenic Reserve. Unfortunately access to the Cascades Falls was not possible due to foot bridge repairs, so we spent some time looking around the picnic area. The highlights at this stop were our first sightings of the Common Bird-orchid (Chiloglottis valida) as well as a wonderful specimen of a Vegetable Caterpillar Fungus (Cordyceps hawkesii).
From the Cascades we drove through to the Suspension Bridge Picnic area for our lunch stop. Our main entertainment during lunch was provided by a male and female Satin Bowerbird. After the lunch break we crossed the suspension bridge and meandered along the walking track following the river. We walked as far as the SEC Bridge before we retraced our steps. We had been told by some walkers that a large black snake was along the path but we, luckily, did not come across it. Bird highlights included a Lyrebird sighting, an Olive-backed Oriole and good looks at Yellow-faced Honeyeaters and Spotted Pardolates.
After lunch we undertook a round-about drive through Toolangi, ending up at Mt St Leonard for both a break and look at the area as well as another quick drink. From here we started to make our way back to the hall.
For the record, our bird list totalled 38.
Contributed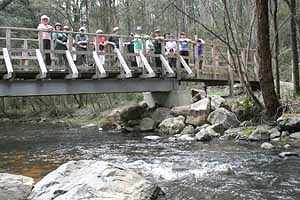 Bridge at Murrundindi
Photo: P & A Rogers.