Murrindindi Scenic Reserve – One of my favourite places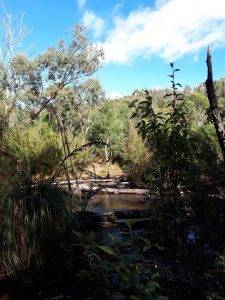 On a beautiful sunny Autumn morning I met with members of various Field Naturalist's clubs by the suspension bridge at Murrindindi Scenic reserve, not far from Kinglake. This walk was part of the recent SEANA get-together held in late April. As no really good rain had fallen for months there was not a lot of fungi to be found. Two lovely fresh specimens of Xerula australis (which is once again facing a name change to Oudemansiella), the Rooting Shank was our first find followed by Vascellum pratense found in grass beside the track. We spotted a fresh specimen of Fistulina hepatica, the Beefsteak fungus, growing on the large above-ground root of a Eucalypt and was photographed extensively. This was the first time I had found it on a tree root as previously I had only seen it on the trunks of Eucalypts.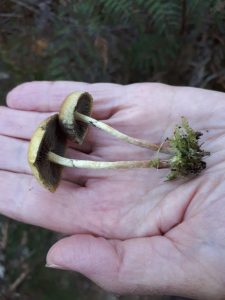 My husband and I have been visiting this reserve for over thirty years and had never seen it so dry. The group's attention turned to the birds and the botany. With Graham Chapman's assistance and the sharp eyes of the other field naturalists we found a pair of Eastern Yellow Robins close to the track. We could hear Lyrebirds calling in the distance. Scrubwrens, White-eared Honeyeaters, White-plumed Honeyeaters, White-naped Honeyeaters and Red Wattlebirds added to the bird chorus. The common birds in this reserve are the Superb Fairywrens and the White-browed Scrub Wrens which often hop around our camp site and under our campervan. We had a fleeting glimpse of a male Satin Bowerbird on the walk and later on, both male and female appeared at our camp. This is one of the highlights of camping at Murrindindi along with the Flame Robins that also visit. One year we had one perched on the side mirror of the car, pecking at the "intruder" in the mirror! Swamp Wallabies and Wombats are common around the area, especially mid-week when most campers leave. There is a history of Aboriginal use in the area by nomadic tribes and in the Wurundjeri language Murrindindi means "Mountain Home".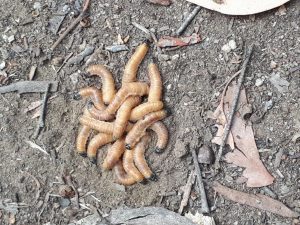 With picnic tables, flushing toilets in the day park area, (pit toilets elsewhere) and shelters, it is the ideal place for a day visit or an extended holiday. The weekends can be crowded and noisy and in spite of dozens of campsites spread along the river right down to the lovely Cascades, mid-week is the best option, especially for viewing birds and other wildlife. I enjoyed showing the members of the various Field Naturalist's clubs around one of my favourite places close to Melbourne and hope they return to sample it's many delights.
By Cecily Falkingham
Photos by Lyn Bunning