Leader: Jack Airey
Facilitators: Sandra & Don Redman/Eleanor & Warwick Dilley
The Kiata Flora Reserve sits beside the Western Highway east of Nhill. It is a well-known reserve to orchid enthusiasts, with populations of the Wimmera Spider-orchid (Caladenia lowanensis) and the Rigid Spider-orchid (Caladenia tensa) located within the reserve, along with being a good spot for sun orchids. There is an active conservation program in the reserve with fenced enclosures protecting the rarest species.
This excursion was broken up into 3 walks – the cemetery, the picnic area, and Reserve Road – giving the group a good look at the different areas in the reserve, while also increasing the likelihood of finding orchids.
The cemetery area was very dry with not a lot of ground plant life. On Saturday we found a Lace Monitor sunbaking high up in a dead tree near the carpark, but weren't lucky enough to find any orchids. The Sunday walk was the opposite – no Lace Monitor, but we did find a cluster of 3 spider orchids, believed to be the Wimmera Spider-orchid (Caladenia lowanensis).
Heading into the central area of the reserve, where there is a covered picnic table, we did a short walk along the track looking for sun orchids. The orchids were pretty sparse and most of the Salmon Sun Orchids (Thelymitra rubra) had already gone to seed. We did find two open "blue" Sun Orchids and a number of Greencomb Spider Orchids. We also saw the Black-winged Currawong (race melanoptera) which is a subspecies of the Grey Currawong.
After a rest and a drink, we moved down to Reserve Road. The road is lined with Cypress Pines and has limited understory which helps in finding orchids. Along the verge of the road we found Greencomb Spider Orchids (believed to be Caladenia tentaculata and Caladenia tensa) in large groups of 10-20 flowers. Moving into the bush we found a couple of Leek Orchids. On Saturday we found a second Lace Monitor, and on Sunday the stand-out birds were a Brown Goshawk and a Rainbow Bee-eater.
By Jack Airey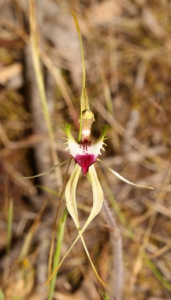 Caladenia tentaculata – Mantis Orchid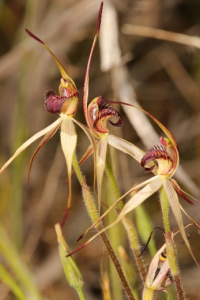 Caladenia lowanensis – Wimmera Spider-orchid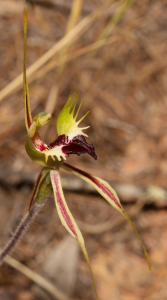 Caladenia tensa – Rigid Spider-orchid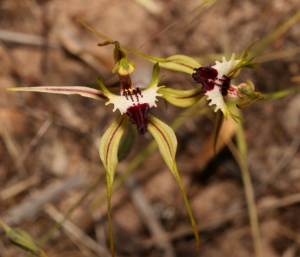 Lace Monitor/Tree Goanna (Varanus varius)
| | | |
| --- | --- | --- |
| | Saturday 14/10 | Sunday 15/10 |
| Brown Goshawk | | X |
| Peaceful Dove | X | X |
| Galah | X | |
| Yellow-tailed Black Cockatoo | X | |
| Little Lorikeet | X | X |
| Red-rumped Parrot | X | |
| Horsfield's Bronze-cuckoo | | X |
| Rainbow Bee-eater | | X |
| Brown Treecreeper | X | X |
| Variegated Fairy-wren | X | |
| Red Wattlebird | X | X |
| White-plumed Honeyeater | X | X |
| Hooded Robin | X | |
| Grey Shrike-thrush | X | X |
| Willie Wagtail | X | X |
| Black-faced Cuckoo-shrike | X | |
| White-browed Woodswallow | X | |
| Dusky Woodswallow | | X |
| Grey Currawong | | X |
| Australian Magpie | X | X |
| White-winged Chough | X | X |
| House Sparrow (I) | | X |
| Tree Martin | X | |
| | 17 | 15 |