Glenlee Flora & Fauna Reserve
Leader: Jack Airey
Facilitators: Sandra & Don Redman/Eleanor & Warwick Dilley
We headed north from Nhill to the Glenlee Flora & Fauna Reserve with hopes of seeing some of the region's birdlife. Glenlee is a large reserve, spread out into blocks, with mixed habitats of buloke, box, cypress pine and sugar gum, with the understory varying from dry ground, to thick shrubs and native wildflowers. The reserve offers numerous walking trails and we did two walks – a triangular trail in the north corner and then a loop walk to the bird hide situated on Gerang-Glenlee Rd.
We were welcomed at our first stop by the resident Hooded Robins which created quite a stir, being an uncommon bird in woodlands these days. Moving into the reserve, we located a White winged Chough nest with an attending parent, with the rest of the family foraging close by. The trail gave us good sightings of birds with White-browed Babblers, Brown Treecreepers, Spiny cheeked Honeyeaters and White-browed Woodswallows being the stand-outs, with Tree Martins our constant companions. On the Sunday walk, we also added a Sacred Kingfisher, a pair of Rainbow Bee-eaters, and, to great excitement, a Spotted Harrier flying directly over the group.
Completing the first walk, we made our way a short distance down Gerang-Glenlee Rd to the bird hide. This section of the reserve has less tree cover and a richer understory, with a significant amount of fallen timber, making it suitable for ground-dwelling birds. Passing through the border of cypress pines, we found Common Bronzewing and Variegated Fairy-wren, although the Fairy-wren were not very helpful – only giving fleeting views. Rufous Songlark seemed to be in good numbers, with their unmistakable metallic calls heard constantly while we walked. They too were elusive and views were hard to come by. Arriving at the bird hide, we surveyed the area and were very pleased to find a group of Yellow-plumed Honeyeaters on both days. Completing the walk, we passed through an open grassland area which revealed several blue sun-orchids, believed to be Thelymitra megcalyptra (Scented Sun Orchid).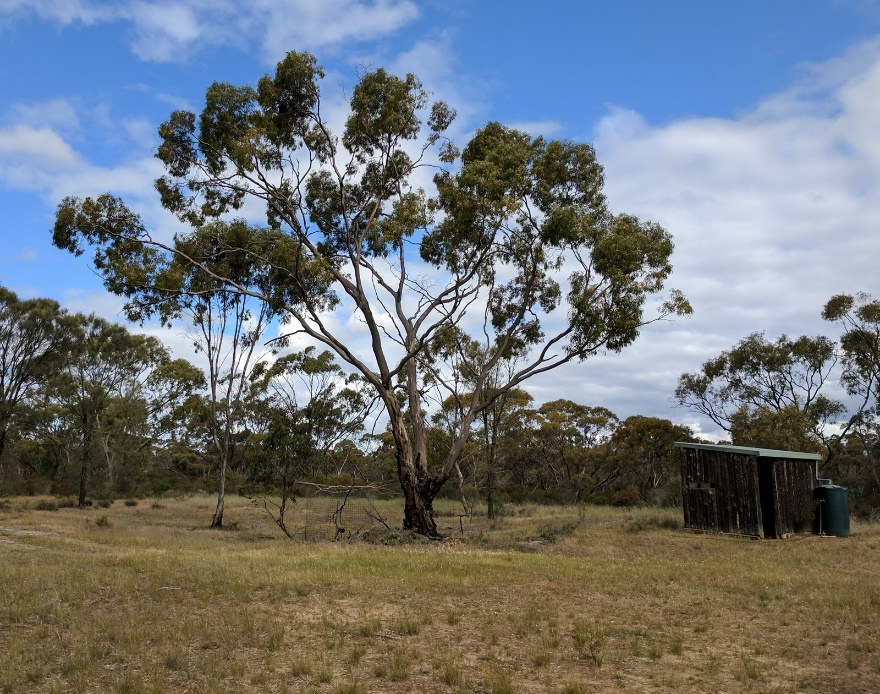 By Jack Airey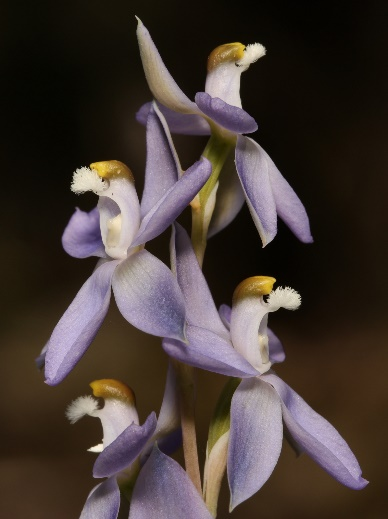 Saturday 14/10
Sunday 15/10
Wedge-tailed Eagle
X
X
Spotted Harrier
X
Crested Pigeon
X
Common Bronzewing
X
X
Galah
X
X
Eastern Rosella
X
X
Red-rumped Parrot
X
X
Sacred Kingfisher
X
Laughing Kookaburra
X
Rainbow Bee-eater
X
Brown Treecreeper
X
X
Variegated Fairy-wren
X
Weebill
X
Red Wattlebird
X
X
Spiny-cheeked Honeyeater
X
X
Singing Honeyeater
X
X
White-plumed Honeyeater
X
Yellow-plumed Honeyeater
X
X
Hooded Robin
X
X
White-browed Babbler
X
X
Grey Shrike-thrush
X
X
Willie Wagtail
X
X
Black-faced Cuckoo-shrike
X
White-browed Woodswallow
X
X
Dusky Woodswallow
X
X
Australian Magpie
X
X
Australian Raven
X
X
White-winged Chough
X
X
House Sparrow (I)
X
Mistletoebird
X
Tree Martin
X
X
Rufous Songlark
X
X
24
29