Castlemaine Landcare Group – Forest Creek Restoration
Leaders: Christine Kilmartin, President of the Castlemaine Landcare Group
Christine, assisted by Euan Moore and Jenny Rolland, lead five participants on an excursion along the Forest Creek restoration area from Ten Foot Bridge to Moonlight Flat, Castlemaine. Like most of the waterways in the region, Forest Creek had been devastated by alluvial mining in the 1850's and subsequent neglect. Christine gave an overview of the landcare group's work over the past 20 years restoring healthy ecosystems and presented the vision for future rewilding of the bush and creek line. During the walk, the group paused at different sites where Christine described these activities in more detail: remnant vegetation with infill plantings, cleared introduced poplars with recent native plantings, fifteen year old plantings in open grassland, fifteen year old plantings with some older trees and native grasslands.
During the walk, the importance of regular surveys to monitor the health of the recovering ecosystems was stressed. Euan explained the value of ongoing bird and other fauna surveys for demonstrating success of the work as well as providing valuable data for responding to management issues. Jenny presented a graph showing differences in the bird guilds and numbers of individuals between three restoration sites, highlighting the importance of achieving structural diversity of vegetation for greater bird species diversity. Of interest, many of the wattles along the creek are host to Wire-leaf Mistletoe, an important food resource for birds and insects in summer and autumn. There was discussion about future restoration plans, incorporating plants of significance for the indigenous peoples and the difficult juggling act when carrying out restoration work within urban public space where there are many competing ideas and proposed uses for the land which must be accommodated.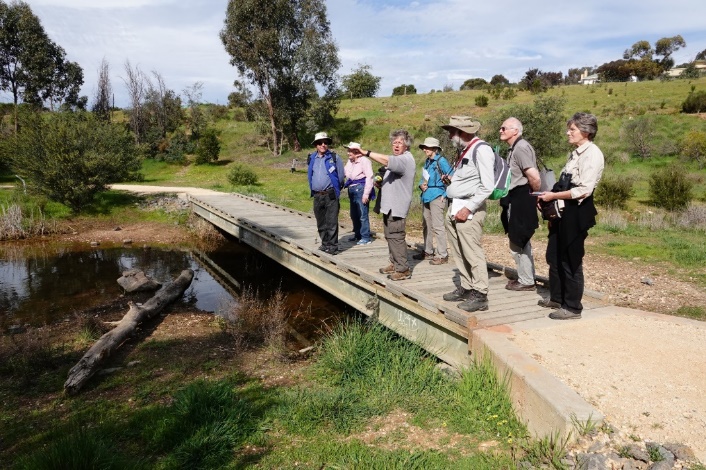 Christine Kilmartin addressing the group at Moonlight Flat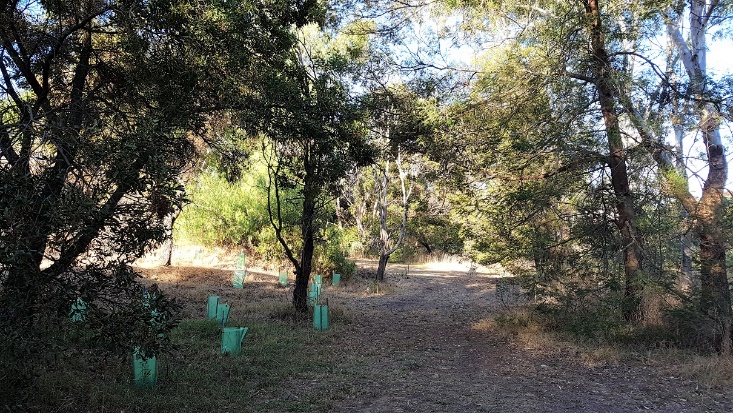 Infill plantings at a remnant vegetation site creating structural diversity and attracting a high diversity of bird species
Recent native plantings in an area cleared of poplars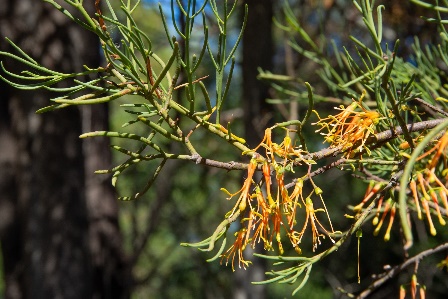 Wire-leaf Mistletoe (not in flower at time of excursion)
A total of 22 bird species and four frog species were recorded and fresh echidna diggings were seen
Birds
Rock Dove
Long-billed Corella
Galah
Crimson Rosella
Laughing Kookaburra
Superb Fairywren
Spotted Pardalote
Yellow-rumped Thornbill
New Holland Honeyeater
Yellow-faced Honeyeater
Brown-headed Honeyeater
Red Wattlebird
Rufous Whistler
Grey Fantail
Willie Wagtail
Australian Magpie
Little Raven (nesting)
Welcome Swallow
Common Blackbird
Red-browed Finch
House Sparrow
Frogs
Pobblebonk
Common Eastern Froglet
Eastern Sign-bearing Frog
Spotted Marsh Frog.