18-19 October 2008 Sunday am
Three excursions were conducted to Badger Weir. Saturday 18th morning and afternoon and Sunday 19th morning only.
Saturday was warm and sunny approximately 28 degrees C. with Sunday being considerably cooler about 17 degrees.
On setting off from the car park along the Coranderk Track our first flowering plant was the Bootlace Bush (Pimelea axiflora). From then the area turned into cool temperate forest of tall eucalypts and fern gullies. As we walked along the track some of the more interesting ferns sighted were Fishbone Water Fern with spore fronds (Blechnum nudum), Gristle Fern (Blechnum cartilagineum) and the Bat's-wing Fern (Histiopteris incisa).
We were able to find a few orchids beside the track. One of the orchids sighted was the Maroonhood (Pterostylis pedunculata).
As the track rose and neared Badger Weir the forest changed to tall eucalypts and fern trees. There are three tree ferns found along Badger Creek. The Soft Tree Fern (Dicksonia antarctica), Rough Tree Fern (Cyathea australis) and the Slender Tree Fern (Cyathea cunninghamii). The moist gully at Badger Weir reveals beautiful tree ferns that are covered in Austral Filmy Fern (Hymenophyllum australe) and Finger Fern (Grammitis billardierei) with some Kangaroo Ferns (Microsorum pustulatum) to name just a few.
An interesting sighting at Badger Weir was the Helmet Orchid growing on the tree ferns . They usually flower between August to October and unfortunately for us they had just finished flowering. Of the many Helmet orchids growing on the tree ferns only a few produce a flower in any one year.
From Badger Weir returning along the Slip Track a number of Lyrebirds were sighted scratching amongst the leaf litter. The Slip Track provided us with some more interesting ferns and a small variety of fungi. The number of fungi species was quite low due to the drier than normal conditions.
From this higher track one could easily see the magnificent eucalypts. The main eucalypts for this area consists of Mountain Ash (Eucalyptus regnans), Manna Gum (E. viminalis) Mountain Grey Gum (E. cypellocarpa) and Messmate (E. obliqua). The Manna gum bark commonly has horizontal "cuts" due to insect larvae. We were just a little early to see the plentiful growth of Hazel Pomaderris in full bloom.
During the walk there were always plenty of birds to see and hear. Some of the more interesting birds were the Lyrebird, Gang Gang Cockatoo, Yellow-tailed Black Cockatoo, Sulphur-crested Cockatoo, Australian King Parrot, Eastern Spinebill, Rose Robin, Golden Whistler, and many Crimson Rosellas. The excursions were completed with a brief wrap up and a short trip back to the Badger Creek Hall. Thank you to the people who attended the Badger Weir excursions.
Graeme Fernandes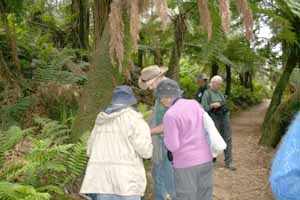 Checking ferns at Badger Weir
Photo: P & A Rogers.